HPCAT welcomes Achyut Dhar and Raghunandan Pratoori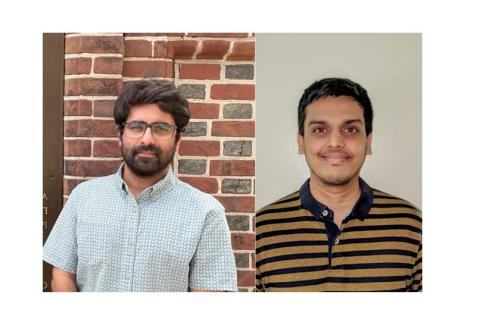 Achyut Dhar and Raghunandan Pratoori will be joining HPCAT as graduate research interns for the fall semester. They are both graduate students at Iowa State University working on their doctoral research since 2019 with Prof. Valery Levitas. 
Achyut Dhar works at the intersection of mechanical engineering and material science. His research interests are in trying to understand phase transformation, plasticity and use continuum mechanochemistry to model complex physical systems. While at HPCAT, he will work with Dr. Changyong Park on modelling the XDI and BCDI data on Zr to understand the effect of grain boundaries and intragranular strain distributions on the a - w phase transition at high pressures.
Raghunandan Pratoori is a mechanical engineering student who has also majored in chemistry. His interests are in the theoretical modelling of phase fields, MD simulations, deep learning and machine learning. He will be working with Dr. Dmitry Popov on modelling the kinetics of the a - w transition in Zr using the phase field approach.