Micromanipulator Workshop May 2018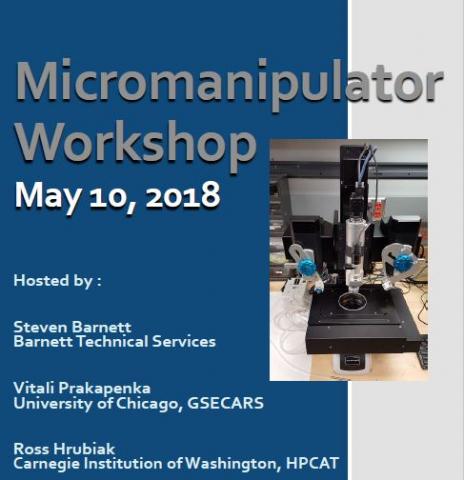 GSECARS, HPCAT and Barnett Technical Services hosted a hands-on workshop on May 10, 2018 dedicated to demonstrating the techniques and future developments of micro-manipulation work using the Axis Pro Micromanipulation System.  
This workshop provided a collaborative interaction between scientists throughout the U.S. to share best practices in their micro-manipulation work.   Users learned about valuable techniques from others who perform the art and discussed future developments to provide for additional sampling modalities that will allow for extensions of their research.
The morning session was comprised of presentations on methods and procedures, followed by an afternoon session with hands-on experience with these tools.  Applied techniques demonstrated the use of the micromanipulator in loading DACs. 
HPCAT beamline scientist, Ross Hrubiak, was a presenter and co-organizer.